Learn to Fly - Recreational Aviation : Eurofox aircraft
00001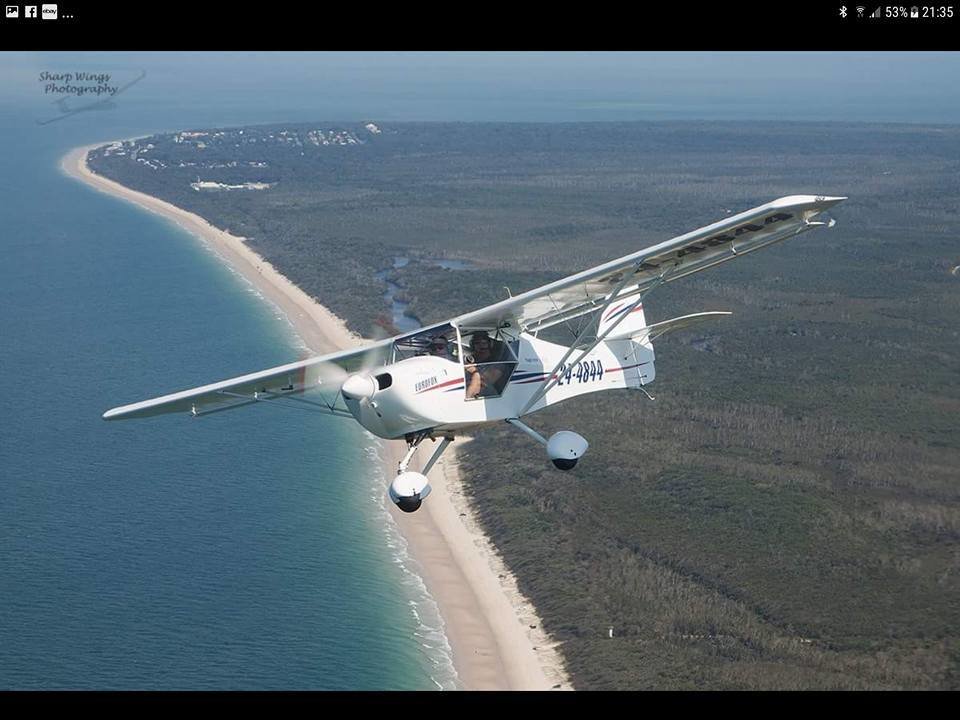 This is where it all starts. You will be given a ground briefing by the instructor on how the plane flies, how the controls work and what to expect. From there you will prep the aircraft, jump in and leave the ground behind you. The instructor will control the aircraft to a safe manouvering height and there your first in flight lesson starts. You will handle the controls while performing basic turns, climbs and descents at the same time feeling the exhilaration of FLIGHT.
Rates include:– Archerfield Landing fees, airways charges,
preflight/postflight briefings and headset hire.
Charges going to other airports as used.
Learning to fly in Brisbane with Flightscope Aviation – Recreational Pilot Certificate
The first licence you will obtain when learning to fly with Flightscope in Brisbane is the Recreational Pilot Certificate issued by Recreational Aviation Australia (RA-Aus). This allows you to fly a Light Sport Aircraft within 25 nautical miles of your departure point during the day, outside of controlled airspace. The caveat with this licence is that, while you can train at Archerfield during the day, you cannot rent our aircraft during tower hours (which is open from 7 AM to 5 PM, every day of the year). That's okay, though, because, really, early morning or late afternoon flights make for spectacular sunrises and sunsets! We promise you'll be in awe at your first flight, taking off at first light.
What does flight training involve?
Learning to fly is not just all practical sequences. There are five theory exams that must be written alongside your training. Once you have taken a trial flight with us and decided you've been bitten by the flying bug, you will learn how to climb, descend and turn the aircraft. You will then progress to learning how to fly a 'circuit' and make landings unassisted.
As your confidence grows, you will be sent on your first solo flight – a flight that every pilot remembers with fondness. You will continue to fly with an instructor after your first solo until your skills are up to standard to receive an RA-Aus Pilot Certificate.
Make sure you also put aside time to prepare and study between lessons so that you can achieve your Pilot Certificate sooner rather than later – the number one problem with some students is that they're understandably keen for the flying part but they forget about the theory, which is just as important. Flightscope Aviation runs full-time courses for those who are dedicated to achieving their certificates in the minimum period of time.
Who can get a Pilot Certificate?
RA-Aus is very flexible – students from 14 up to their mid-70s! As long as you have the health standard to drive a vehicle on public roads, you're healthy enough to fly an RA-Aus aircraft – even if you have glasses!
Costs & Payment
At Flightscope, we keep things simple. Pay on the day, no need for upfront deposits. We don't charge for fuel or headset rental.
If the Archerfield Training Area isn't big enough for you, and you want to stretch your wings, it's time for a Navigation Endorsement.
This Endorsement allows you to pilot an RA-Aus aeroplane outside the 25 nautical mile limit, but also outside controlled airspace. If you wanted to fly to Glen Innes or Emerald, you can do just that.
We teach you the lost art of navigation by clock and compass – so you won't even need the use of a GPS!
Costs & Outline
15 hours Aircraft flying plus 4 hours briefings.
You can pay per lesson and we don't charge for fuel or headset hire.

Dual with an Instructor
Solo / Private hire (-100)
Navigation syllabus
briefings (65)
Recreational Aviation Australia RAAus
RAAus Flight Test fee (120) RAAus Exam fee (120)
Date booking - Phone for time.